Apartments Greta - Ortisei - Val Gardena
A cordial welcome
Greta and her family will welcome you with warmth and with homemade jams and will give you precious suggestions for restaurants and places to visit.
Our villa is located in a residential area of Ortisei, in a sunny, quiet area and 5 minutes walk from the center. From its balconies you can enjoy an enchanting view in all seasons. Feeling one with nature and rediscovering yuourself in the silence of the high altitudes.
Sassolungo Apartment
90 m² ground floor + 90 m² 1. Floor (Tot 180 m²)
A very spacious apartment, colorful and a care for even the smallest details, particularly suitable for larger families. Upstairs bedrooms with enchanting views of the mountains. Green bedroom with single bed and bathroom with shower, blue bedroom with three single beds, bathroom with two sinks, shower and bathtub, turquoise bedroom with bed double bedroom and bathroom with tub, and room color apricot with bathroom with shower. Well-equipped kitchen with an opening onto the garden, very spacious living room with a dining table for up to 12 people. Reading corner with typical majolica stove and "oversize" sofa with 50-inch flat screen. Enclosed garden with deck chairs, large terrace with dining table up to 8 seats. Access from external stairs and inside from the garage. Two parking spaces in a covered garage.
Descriptive points
Maximum for 8 people
Each room has its own bathroom
All rooms have a balcony and a panoramic view
Great location and always in the sun
Possibility to eat and have breakfast outside
Quiet district in the central area
Garage with direct access to the house
Many relax / reading areas
Perfect location to reach the various lifts
Equipped laundry room
Apartment Alpe di Siusi
90 m² 2. Floor / attic
Attic apartment in typical Tyrolean style, colorful, spacious, in excellent location, well furnished and fully equipped.Excellently equipped kitchen, spacious living room with 32-inch flat screen, two double bedrooms and two comfortable bathrooms, one with shower and one with bathtub bathroom. Outside relax corner. One parking place in a covered garage and one outdoors.
Descriptive points
Maximum for 5 people
Cozy and welcoming
Furnished with typical Tyrolean style furniture
Well equipped
External space
Storage for luggage and more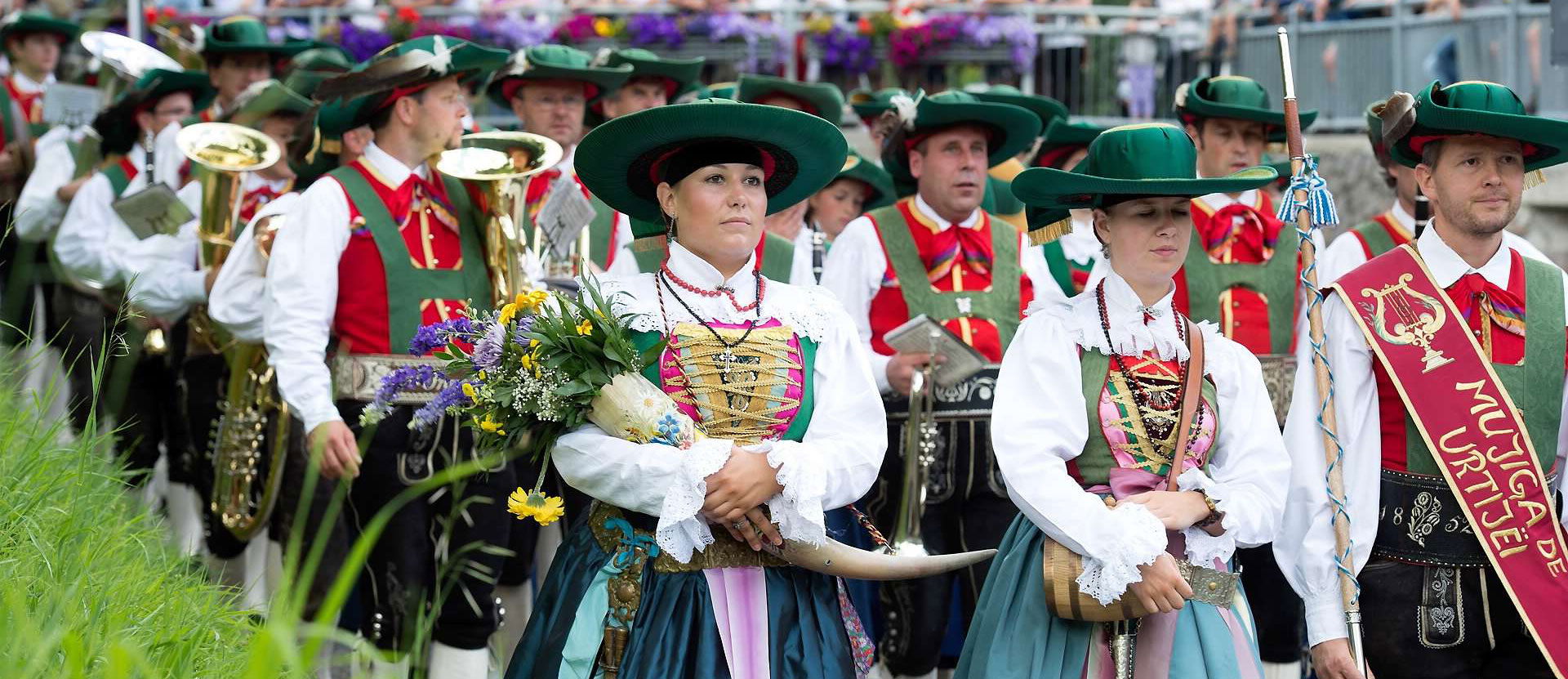 Local traditional events
The culture and the Ladin tradition have always been a fixed point in the history of Val Gardena. Nor is our museum a witness with its great variety of sculptures, paintings, minerals and testimonies from past eras, from Etruscan sites to wooden toys of our tradition. You can also visit the website www.valgardena.it to know all the events taking place in the valley.
Services included
Cots on request
Bedding
Towels
Baby's chair
Tablecloths and kitchen towels
Wifi 20Mb
50 and 32-inch televisions
Spacious garden and deckchairs
Outdoor dining table for both apartments
Shoe warmer near the garage
Covered ski deposit
Coffee, Tea, Sugar, Oil, Vinegar, Salt
Detergent for dishwashers for first washings
Detergent washing machine for first washings
Soaps, quality gel douche for every bathroom
Hairdryer present in every bathroom
Possibility to leave luggage and take a shower after check out
Laundry room
Sound system (Sassolungo apartment only)
Covered garage with 2 parking spaces (Sassolungo apartment only)
Covered garage with 1 parking space + 1 outdoor parking (Alpe di Siusi apartment only)
Summer
In the summer season you can travel miles at all heights with your E-bikes and mountain bikes. There is no shortage of public tennis courts, public swimming pools with saunas, horseback riding, and do not forget, fantastic walks on well-marked paths among the most beautiful views in the world suitable for Nordic walking! Val Gardena is also a focal point for motorbike rides throughout South Tyrol.
Puez-Odle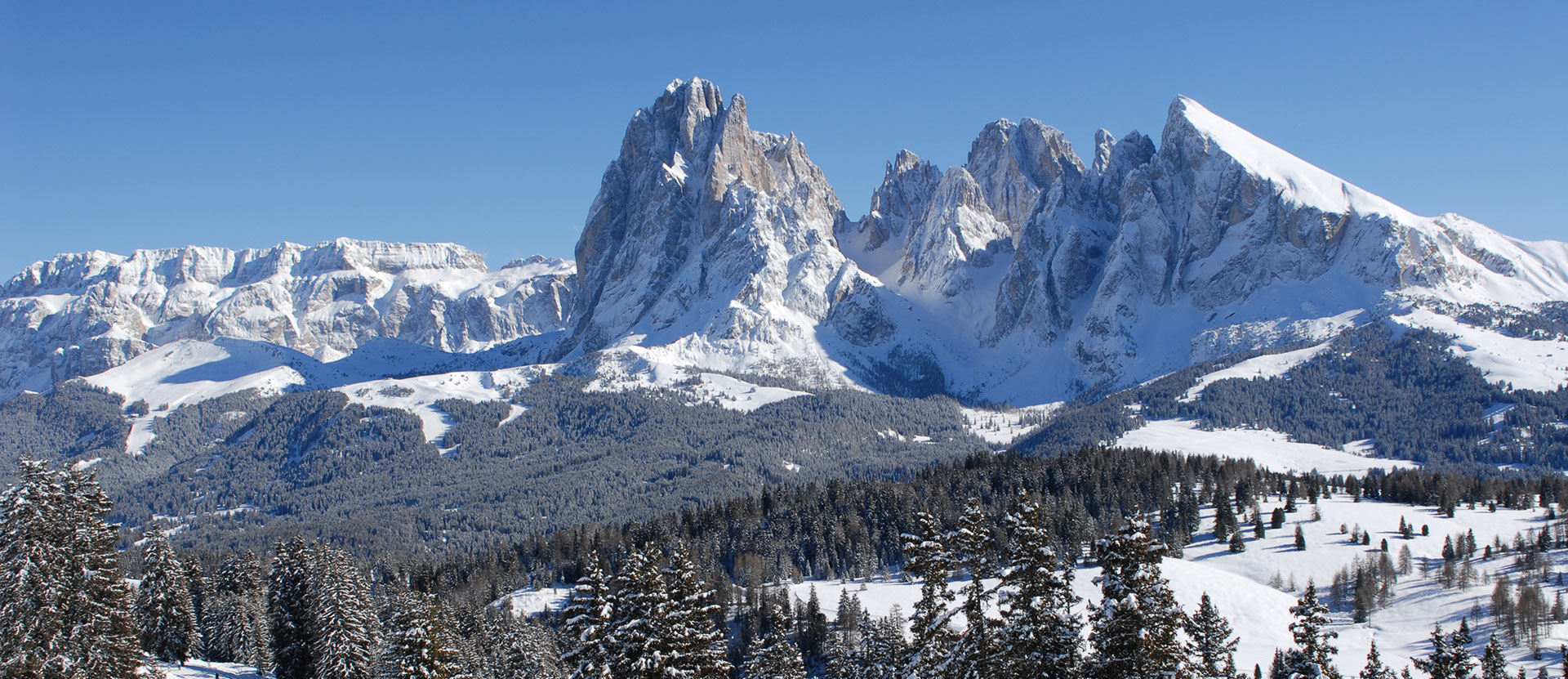 Winter
In the winter season you can practice skiing, in all its variations, trekking and adventurous walks with snowshoes on unforgettable routes. Paradise on earth for winter sports lovers. Perfectly snowed slopes. A sun that shines and illuminates enchanted landscapes. La Sellaronda: 26 km of slopes for all tastes through breathtaking views.
Alpe di Siusi
Important information
€ 15 per person is added for final cleaning.
We add € 1.40 per person per night for tourist tax, children under 14 years excluded.
Check-in time from 15.00 onwards.
Check-out time from 8.00 to 10.00
Late check-out is possible for a surcharge of € 20 per person.
Prices are for a maximum of 8 persons per Apartment Sassolungo and a maximum of 5 persons per apartment Alpe di Siusi.
The price remains unchanged based on the number of people.
Non-smoking facility (outside areas for smokers)